Introduction
Guided Tissue Regeneration involves regrowing diseased gum tissue and/or bone structures around teeth. Due to periodontal disease or other traumas, important hard and soft tissue can be destroyed around the teeth, and in turn, cause the teeth to move, shift, or eventually be lost. Guided tissue bone regeneration is recommended to save the affected teeth.
Procedure
During this procedure, which is performed under local anesthesia, your doctor will gently turn back the gum tissue and remove the disease-causing bacteria and infected tissue. A combination of substances will be placed around the affected area to regenerate bone. Most techniques utilize membranes that are inserted over the bone defects, but other substances include bone graft material, tissue-stimulating proteins, growth factors or a combination thereof, and will help to encourage your body's natural ability to regenerate bone and tissue.
Long-Term Benefits
Eliminating existing bacteria and regenerating bone and tissue helps to reduce pocket depth and repair damage caused by the progression of periodontal disease. Regrowing the bone can provide better support for your teeth, and reducing the pockets will help you keep your gums and bone healthy. With a combination of daily oral hygiene and professional maintenance care, you will increase the chances of keeping your natural teeth and decrease chances of serious health problems association with periodontal disease.
Dr. Shah's Before and Afters
Before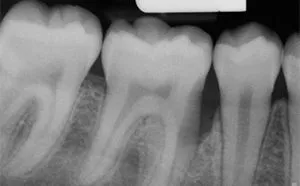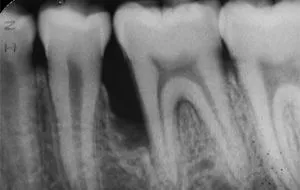 After