Improving your Quality of Life
Before development of dental implants, dentures were the only alternative to replacing a missing tooth or teeth.
Dental implants are designed to provide a foundation for replacement teeth that look, feel, and function like natural teeth. The person who has lost teeth regains the ability to eat virtually anything and can smile with confidence, knowing that teeth appear natural and that facial contours will be preserved! The implants themselves are tiny titanium posts that are placed into the jawbone where teeth are missing, in the area of the tooth normally occupied by the root. The bone integrates with the titanium, creating a strong foundation for artificial teeth. In some cases, implants can be used to support dentures and other prostheses.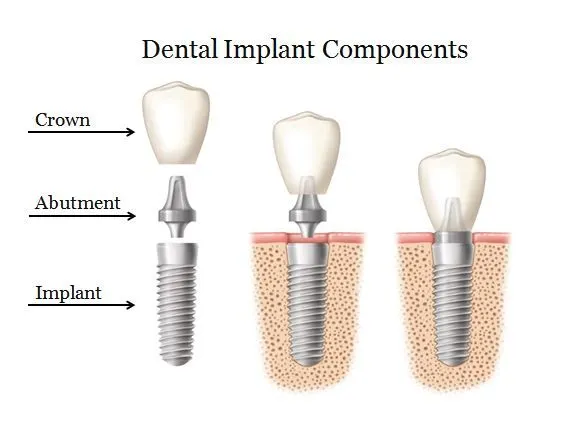 Dr. Shah has received extensive training in Implantology and remains abreast of the most current information on implant dentistry. A consult with Dr. Shah is needed to determine if you are a candidate for a dental implant. For a successful implant to take hold, a candidate must have proper bone density and have a healthy immune system. In almost all cases, a 3-D x-ray (Cone Beam CT Imaging) will be needed of the area of interest to evaluate the quality of the bone and other important anatomical structures. In some cases, Bone Graft/Ridge Augmentation or Socket Preservation or Maxillary Sinus Lift may needed during or prior to receiving an implant. In all cases , dental implants require strict oral hygiene and routine professional cleanings.
In some cases, implants can be immediately restored with a temporary tooth. However, in most cases, a period of time is required for the implant to take hold and for bone tissue to build up and anchor the device. This can range from 4-6 months, and will be determined with follow-up visits with Dr. Shah. Once you are ready, Dr. Shah will send you back to your general dentist for the crown.
Nervous? We understand.
At South Jersey Dental Implants & Periodontics, we never want fear or anxiety to get in the way of optimal treatment. It is Dr. Shah's priority to keep his patient's comfortable before, during, and after the placement of dental implants. He offers a variety of pain management options, including local anesthesia and antibiotics and other medications to stave off infection following the procedure. In addition, i f you are extremely anxious for the procedure, some patient choose a method of sedation for the appointment.
Dental implants are changing the way people live! With them, people are rediscovering the comfort and confidence to eat, speak, laugh, and enjoy life.
What Patients Say
"Dr. Shah and Christine were exceptional. They treated me very well. Dr. Shah took care to explain everything to me in a manner that was totally understandable. He was excellent in completing the procedure and showed real concern for my comfort. Christine made sure that I was comfortable and she was attentive to my needs. This was my first experience with a dental implant and I would not hesitate to do another when necessary. I would recommend Dr. Shah for this procedure to anyone who inquires. Today I have no discomfort and am looking forward to the next step in the process. Thank you and your office for taking excellent care of me."
-William P. 3/30/16