What is it?
Maxillary sinuses are hollow air spaces that reside beside your nose and on top of your upper premolar and molar teeth. Some of the roots of the natural upper teeth extend up into the maxillary sinuses. When these teeth are removed, there is often just a thin wall of bone separating the maxillary sinus and the mouth. When the sinus wall is very thin, it is impossible to place dental implants in the bone.
Procedure
The solution to this problem is a procedure called a sinus augmentation or sinus lift , where Dr. Shah adds bone under the sinus at the site a dental implant is desired. The sinus membrane is lifted upward and donor bone is inserted into the floor of the sinus. After several months of healing, the bone becomes part of the patient's jaw and dental implants can be inserted and stabilized in this new sinus bone. In certain circumstances, the dental implant can be placed at the time of the sinus lift procedure. A sinus lift usually is performed by a specialist.
The sinus graft makes it possible for many patients to have dental implants whose only option years ago would have been loose dentures.
Post-Operative
After the sinus lift procedure, antibiotics and analgesic medication are prescribed and post-operative care instructions are reviewed both verbally and given to you in writing. Following the post-operative care instructions is critical for success and for a positive experience.
Dr. Shah's Before & After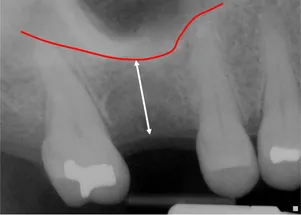 Inadequate bone height to accomodate a dental implant. Red line indicates floor of the sinus.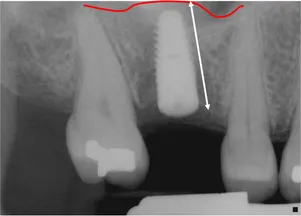 Sinus lift and dental implant placed. Note the increase in bone height to accommodate an implant of ideal length.