Introducing the Perioscopy Alternative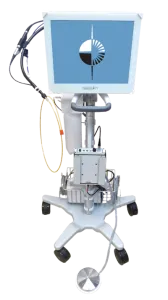 A NEW NON-SURGICAL OPTION
In the mild forms, periodontal disease can often be treated by a professional cleaning. Treatment of moderate or advanced periodontal disease is more complex and the damage is difficult to reverse. At this stage, the focus of treatment is to control the infection and prevent additional deterioration. Initial therapy, called scaling and root planing or 'deep cleaning', involves removing hard bacterial deposits from below the gumline. Although this procedure is effective, it almost always results in residual deposits left in the deep periodontal pockets due to the clinician's inability to see under the gumline where they are cleaning. As a result, more severe patients often require more aggressive treatment, which until recently was surgery. Now, there is a new procedure called Perioscopy, featuring a miniature digital video camera that enables a clinician to diagnose and treat areas below the gumline without the discomfort and inconvenience of surgery. For the first time, clinicians using the dental endoscope can see magnified details of tooth anatomy and bacterial deposits (tartar) below the gumline to diagnose and treat periodontal disease in a minimally-invasive way.
FREQUENTLY ASKED QUESTIONS
HOW DOES THE PERIOSCOPE WORK?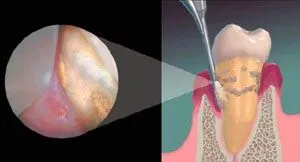 A miniature camera is attached to a tiny fiber optic probe and then gently placed below the gumline. The images ar e immediately displayed in a chairside video screen for your clinician and you to see. The dental endoscope provides up to 48x magnification and discloses minute details under the gums that, before the advent of this technology, might easily be missed. Using this device, clinicians are able to see under the gumline and achieve a very thorough cleaning, which promotes healing and prevents further damage including tooth loss.
IS PERIOSCOPY RIGHT FOR ME?
If you have one or more pockets 5mm deep, as well as other suspected dental conditions, then you may be acandidate for Perioscopy. If you are being treated for periodontal disease, the goal of a Perioscopy treatment is to get a tooth root exceptionally clean so that the gums and other surrounding tissues can become healthier. Perioscopy is especially effective in the "esthetic zone" or the teeth you see when you smile, because it is so minimally invasive.
HOW LONG DOES PERIOSCOPY TAKE?
Because of the intricate clinical nature of Perioscopy, procedures tend to take a bit longer than a standard appointment with a doctor or hygienist. Depending on the severity, location, and number of teeth being cared for, treatment usually takes between 1-2 hours.
IS PERIOSCOPY EXPENSIVE?
Perioscopy treatment is less than the cost of surgery. Patients frequently report that Perioscopy was definitely a worthwhile investment and helped them save their natural teeth.
DOES IT HURT?
Generally, there is very little, if any discomfort during or after a Perioscopy appointment. Your clinician is committed to taking the appropriate steps to ensure your comfort.
A Higher Level of Care
In keeping with our commitment to stay on the forefront of technological innovations and provide the highest quality care, your periodontist and hygienist have received special training in the use of the Perioscope. We are pleased to be able to provide you with this state-of-the-art treatment alternative.